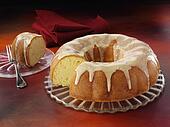 Making a good cake GREAT can be simple.
For a chocolate cake, add a couple of handfuls of chocolate chips. Substitute part (or all) of the liquid with a favorite liqueur such as

Creme de Cacao or Creme de Menthe ..

Just the other day, I made a Rum Cake from my niece's recipe. The original recipe calls for making it in a bundt pan. In talking with my niece, Maria, we agreed that this makes a deep cake, resulting in huge slices, so she sometimes makes it in two, single layer cake pans, then finishes with the rum syrup dipping. I like the look of a bundt pan - it's just pretty. So, I made the best of two worlds. I baked and thoroughly cooled the cake. THEN, I sliced it in half, and continued with the rum-syrup dipping.
You can use this method with any bundt or angel food pan. Using an electric knife, you could slice an angel food cake into three layers and fill with raspberry jam, topping it off with raspberry icing; maybe jazz it up a bit with a shot of Chambord (Raspberry liqueur) in your icing. Yummy.
all rights reserved © 2015 Cat Brennan